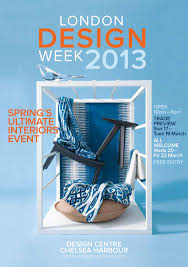 We headed down to the Design Centre at Chelsea harbour yesterday for the London Design Week. Full of ideas , trends for 2013 and a amazing style inspiration, Chelsea harbour is always a fantastic place to visit for anyone with an interest in interior design .
The harbour was looking particularly lovely this week bursting with of hyacinths and cheery blossom it really felt like spring had arrived.
We enjoyed a great masterclass in choosing the perfect capsule collection for your home, from some leading lights in design : the renowned Allegra Hicks (who was completely glamorous) , lovely Marianne Cotteral (who was v cool and stylish) and Elenoara Cunietti (who we all agreed would be a great person to go for a glass of wine with).
We then spent a very entertaining hour listening to the brilliant Shaun Clarkson, whose bold colours and design can be seen in many of London's hottest bars and restaurants, as well as his work with for private clients. He has an infectious laugh and brought a real sense of fun to his talk about his work in design.
Continue reading