A well-placed spotlight will provide directional lighting wherever you need it. Choose a single spot to light up a specific area, or one of our combinations of up to six spots for a whole room. Our fabulous range of kitchen spotlights contains industrial-inspired designs for a contemporary interior and antiqued versions for a more traditional look.
Spotlights can be used anywhere in your home, but they make the best kitchen lights as they provide bright, focused light for those all-important tasking jobs you undertake in a kitchen. Our range of kitchen lights includes spotlights, LED spotlights, ceiling-mounted spots and dimmable spotlights, all made with directional heads that can be angled where you need them to create the perfect ambiance. Angled lighting is often favoured by interior designers to highlight specific areas or objects in a room. By directing a focused beam of light, you can create a dramatic effect that draws attention to a particular feature or creates a unique ambiance. We'll be highlighting five different types of spot lighting and how to use them to create a stunning focal point in any room.
THE SINGLE CURTIS
Shown in a room designed by Francesca Rowan Plowden for Elmley Nature Reserve, this is a wonderful placement for our bestselling Single Curtis Spot Light. With a slim head that can be angled through 90 degrees and rotated through 350 degrees and a nod to retro design, the Single Curtis Spot Light is scaled to work in smaller spaces just like this one to access hard to reach areas or place on narrow beams. Photographed by @rebeccadouglasphotography.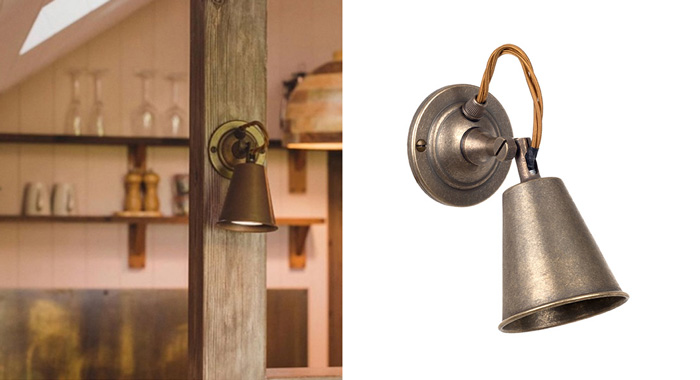 THE SALTHOUSE
We adore the use of our dainty Salthouse Wall Lights here by @storries.scottish.steadings with a trio of Exeter Pendants above the dining area, bringing in hints of warm brass against an effective pairing of stone grey and off-white keeping things cool. Our take on industrial lighting from the 50s and 60s, the Salthouse adds a unique twist whilst brightening the darker nooks of your kitchens.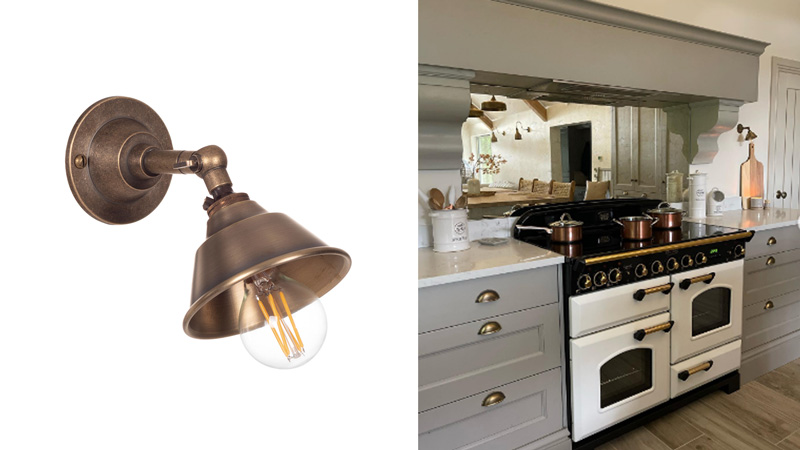 THE EDGEWARE
Lizzy of @pink.walls.at.number.13 has conjured elements of farmhouse living in the kitchen of her beautiful victorian reno: a style which our lighting is particularly at home in. ⁠Our Edgeware Spot Light is a nifty addition, with a rounded shade offering a softer looking alternative to the similarly proportioned Curtis light.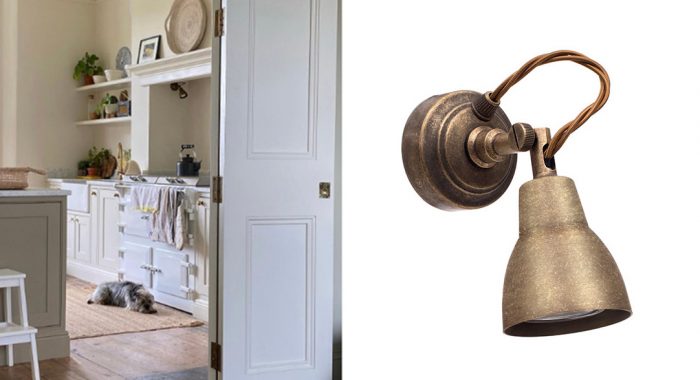 THE EDGEWARE FLUSH
The Edgeware Flush Mount Ceiling Light is a traditionally styled, handcrafted, fixed ceiling light that combines the practicality of a spotlight with the beauty of our Edgeware spun brass shade. It is ideally suited as a downlighter for your kitchen worktops or island, as beautifully presented by @ns.interiordesign alongside a trio of Thornton Pendants. Pairing spot lights with pendants develops layers in the room: a necessary overlap for a multifunctional space.


THE ALDGATE
Our Aldgate Wall Light is an industrial inspired design that makes a bold statement in contemporary home after a retro look. It has an adjustable head, so can light as much or as little of the area as needed. Illuminate shelving, artwork or kitchen surfaces with this bright and bold design.
MULTIPLE SPOTLIGHTS
Bar spotlights lend themselves to kitchens with high or vaulted ceilings. They are also popular as living room lights, used for bedroom lighting and to provide directional lighting in garages, home offices and hallways. Discover our double and multiple kitchen spotlights here.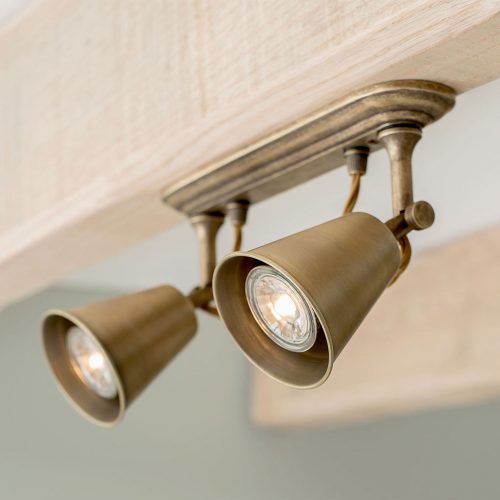 BULBS
It is vital to think about the type of bulb you wish to use in your spotlight. LED bulbs are energy-efficient and long-lasting, and whichever light you choose we will recommend the most suitable option on the individual product page. Explore all of our bulb options here.

SHARE YOUR STYLE
For even more home interior ideas, keep up to date by following us on Instagram, Facebook and Pinterest. Don't forget to tag us in photos of your kitchen spotlights – we love seeing our products in their new homes.