Budget friendly without compromising on quality, all of these lights fit comfortably into our catalogue of exceptionally hand-crafted products whilst keeping to a relatively low cost.
Our customers are at the heart of everything we do, inspiring us with the passion to create authentic lighting and home furnishings. It is our belief that by selling directly to you, we can guarantee that every product we sell meets the exacting quality control standards we have set and for which we are renowned. We are constantly working to offer our customers the very best value we can, whilst ensuring the highest levels of craftsmanship.
We understand that renovations and refurbs sometimes feel like they cost the earth, so we've collated a few of our best selling lighting fixtures that certainly won't. These lighting designs prove that you can transform your lighting scheme for under £80 and create a beautiful result without breaking the bank.
BARBICAN PENDANT IN ANTIQUED BRASS, £82.30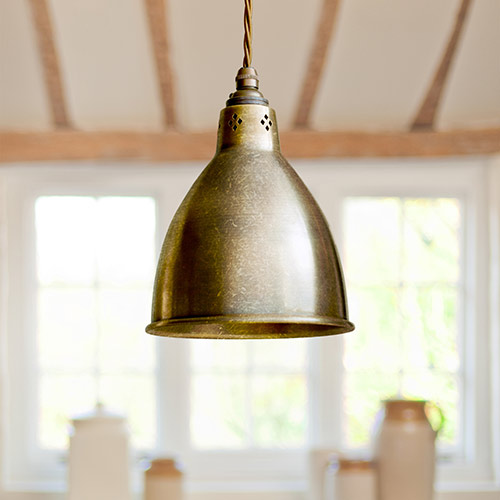 Our dainty but perfectly formed Barbican Pendant is one of our most popular and versatile pendants, available as a single light or on a tack of three and in a wide range of finishes with complementing braided cable and ceiling roses to choose from. With its beautiful spun brass, steel or painted shade, decorative neck and braided cable, the Barbican will fit into any country modern kitchen scheme and looks fabulous hung in groups above a dining table, breakfast bar or kitchen island.
To complete the look with more vintage detailing, pair the Barbican with our Barbican Wall Lights with which it shares its attractive curved shade.
ATKINS WALL LIGHT IN MATT BLACK, £62.35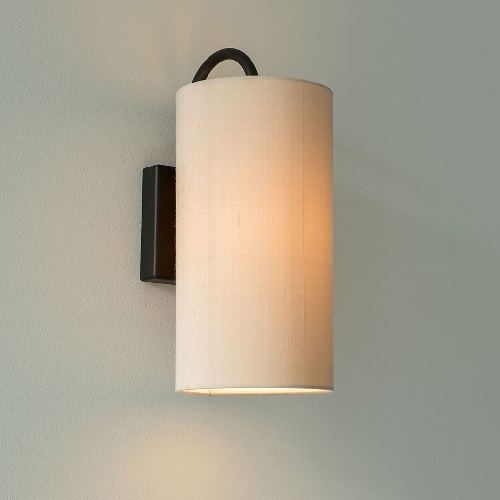 A contemporary light with clean straight lines, the Atkins Wall Light is one of our more minimalist designs ideal for updating a room with layered light. Hand crafted from high grade steel and painted matt black for a smart, uniform look, the Atkins features a deep rectangular backbox to hide the wiring and a strong top fitting shade arm. It is a fairly flush wall light and looks fabulous lighting up a bedroom, hallway or dining space where it helps to create a cosy, inviting atmosphere.
Style with a shade made from our vast selection of unique fabrics. As it sits close to the wall, the Atkins will only take shades that are up to 16cm wide. We recommend pairing your Atkins with our 13cm, 15cm and 16cm cylinder shades or our smaller straight sided oval shades. You can also try our 15cm straight sided square shades, 30cm rectangular shades and our range of half shades that have a slider to adjust the shade closer or further from the wall.
PENDANT LAMPHOLDER IN ANTIQUED BRASS WITH BROZEN CABLE, from £32.41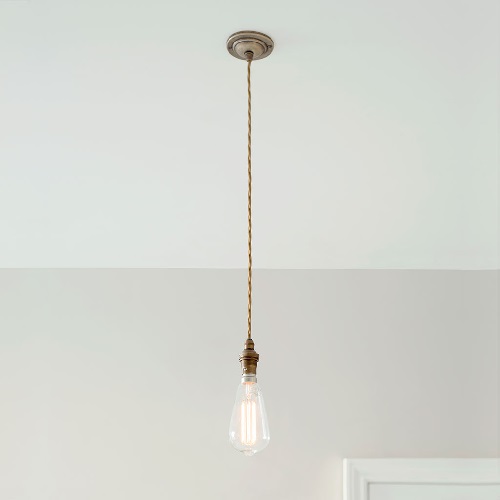 Complement your room with one of our beautiful Pendant Lampholders with period style braided cable – a fabulous way to show off a favourite shade and finish your scheme. A great alternative to the usual white plastic fittings, all our pendant lampholders are supplied with an 8.5cm diameter 'Georgian' ceiling rose and 50cm of braided cable that reflects the period look of our lighting.
MALDON WALL LIGHT IN ANTIQUED BRASS, £86.26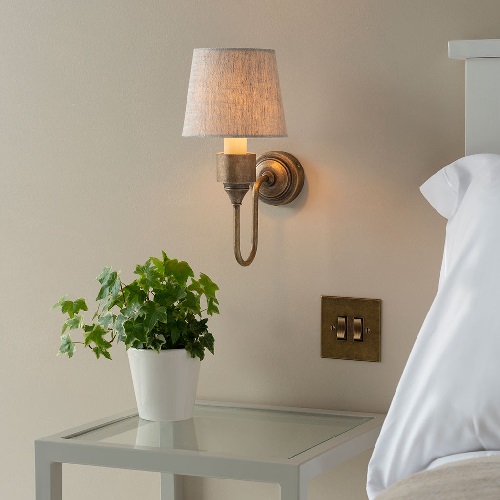 Our classic brass Maldon Wall Light is a neat, versatile wall sconce with an understated elegance that will look wonderful illuminating any kitchen, bedroom or dining room wall. Similar in look to our popular Chester Wall Light, we have adapted it to take a candle shade so you can choose the style and colour that best suits your interior. Handcrafted from solid, natural brass, that has been gently antiqued to give a subtle, aged appearance, the Maldon's design incorporates an elegant swan neck shade arm with a wide candle tube holder to produce a pretty wall sconce with a classic outline that will look fabulous adorning the walls in any room in your home where it will add lovely layers of light to your scheme.
Style the Maldon as you like with our gorgeous classic Candle Shades, French Drum or Tapered shapes to achieve four very different looks for your home. All our shades are handmade here at our Suffolk workshops by our talented team of shade makers.
LAMARSH WALL LIGHT IN MATT BLACK, £65.13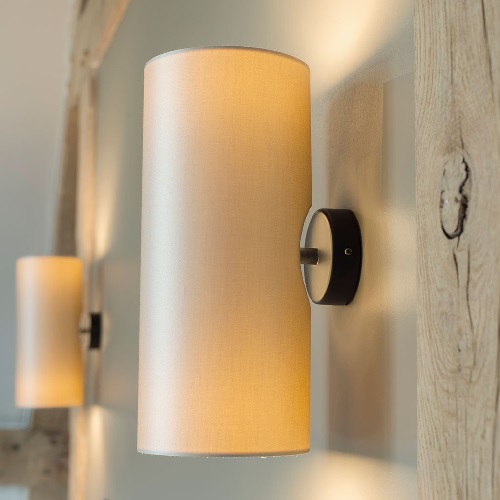 Our Lamarsh Wall Light has a clever double bulb fitting that is hidden beneath a specially designed cylinder shade that throws the light up and down your walls for a cosy atmosphere. Ideal for small spaces thansk to its fairly flush fitting, the Lamarsh is perfect for hallways, bedside table lighting or dining and living rooms where you want to add lighting but keep things relaxed and subdued. This light requires a specialist shade so please choose from our collection of Lamarsh Cylinder and Rectangular lampshades that are available in a variety of neutral linens and silks to perfectly complement your room.
AUDLEY WALL LIGHT IN ANTIQUED BRASS, £57.11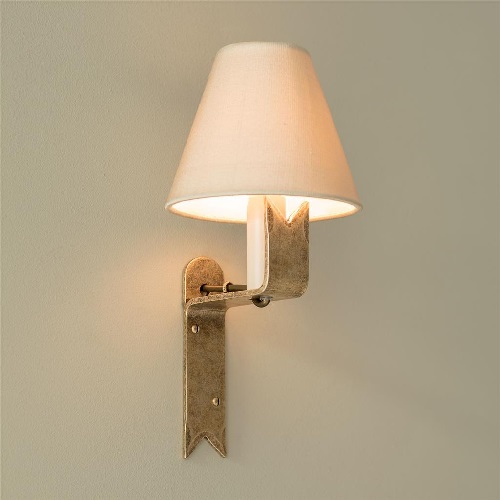 Our petite Audley Wall Light shares many of the same design characteristics as our ever popular Cottage Wall Lights in that its ribbon edged detailing offers a strong but simple silhouette for a modern country setting. Choose from our huge collection of handmade candle clip shades in a multitude of colours to find your perfect match for this pretty light.
BROOKE WALL LIGHT IN MATT BLACK, £71.59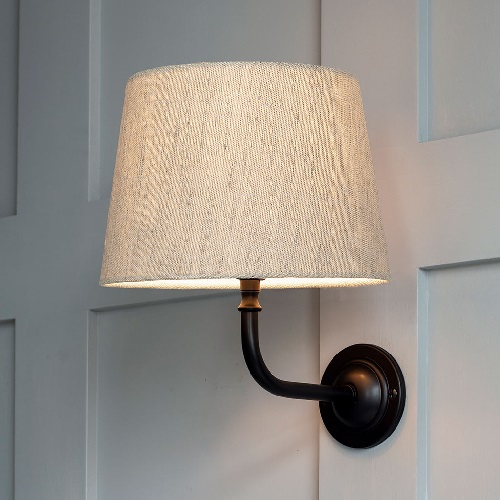 If you are looking for a classic wall light with a twist, our new Brooke Wall Light in Matt Black will fit the bill. Influenced by our hugely popular Club Wall Light, the Brooke has the same vintage appeal but with the added benefit of a shade. This wall light's neat, unfussy presence looks equally at home in a contemporary setting as it does a more period one and it has an added versatility – you can choose its orientation.
Fit it upwards for a modern twist to traditional wall lighting, or downwards for a more classic look. Pair it with one of our fabulous handmade fabric shades to bring softness to a room. A fabric shade allows more light through its sides so is a great way to add layers of light to a scheme, as well as brightening up a dark corner. Please note you will need a straight sided or pendant shade if you wish to fit this light facing downwards.
EDGEWARE FLUSH MOUNT IN ANTIQUED BRASS, £64.46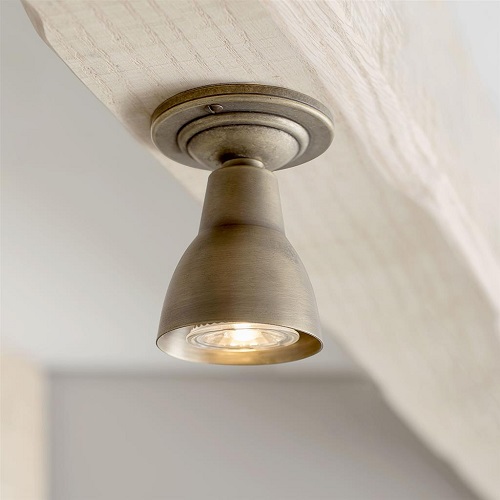 The Edgeware Flush Mount Ceiling Light is a traditionally styled and hand crafted fixed spotlight that combines the practicality of a spotlight with the beauty of our gently curved brass shades. It is ideally suited as a downlighter for your kitchen worktops or lighting up the tricky nooks of period homes where you might have beams or other quirks that create darker corners.
CARRICK IN ANTIQUED BRASS, £69.50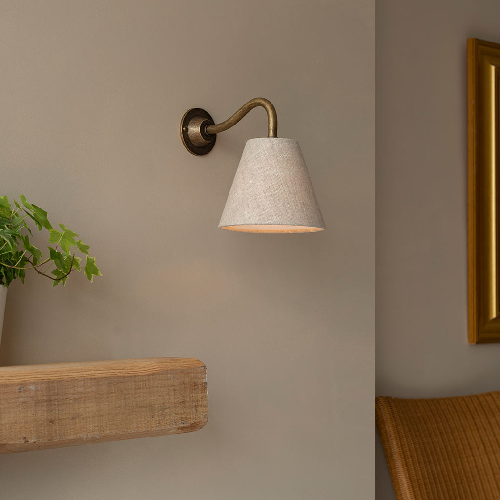 A clever and versatile wall sconce with a neat, unfussy presence, the Carrick Wall Light is the latest addition to our best-selling Club family of lights and will make a lovely addition to your home. Not only does the super new design – combining the Club Wall Light's brass arm with a fabric shade of your choice – means that you can style it as you like, it also means you can choose the orientation for any number of totally different looks. Fit the Carrick upwards for a traditional appearance, or downwards for a more modern twist. Kindly note: you will need a straight sided shade or a pendant lampshade if you plan to fit this light with the bulb pointing down. Choose from a variety of shade shapes and sizes for this simply elegant design.
MADE BY US, LOVED BY YOU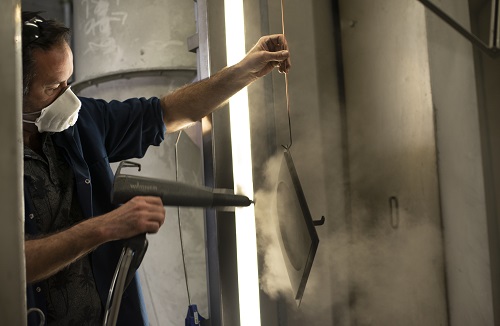 Do you want to see more? We are very proud of the quality of our workmanship and designs that we feel highlight the skill of our workers and their ability to make products that suit both contemporary and period properties. To view all of our home accessories and lighting visit our website.
For even more home interior ideas, keep up to date by following us on Instagram, Twitter and Facebook. Don't forget to tag us in your home updates– we love seeing our products in their new homes!