Searching or that wow-factor light for next years renovation? Or simply something bold and beautiful to refresh a stale interior? Look no further… We are delighted to introduce our much loved oversized Greenwich and Richmond Pendants in new Nickel, Matt Black and Polished finishes. Previously only available in Antiqued Brass, each of these new designs make for a striking feature in any hallway or entrance space, perfect for boosting naturally dark areas with a large glass shade.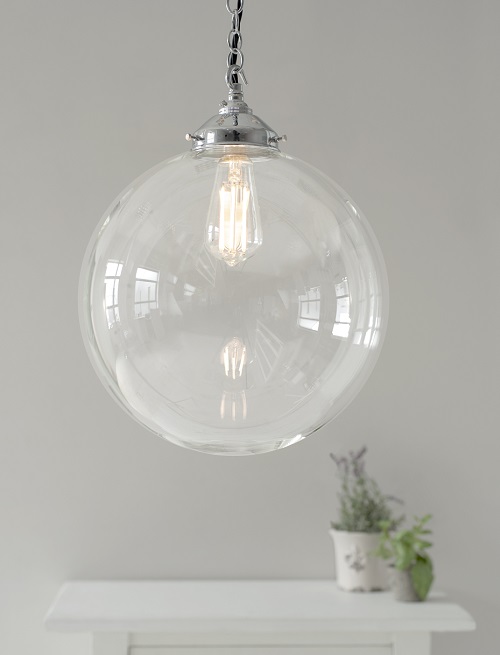 These eye catching pendants feature oversized, hand blown clear or reeded glass shades. Designed to take centre stage in larger rooms or homes with high ceilings, both styles look fantastic in a pair or hung solitarily.
Originally popular in kitchens as countertop lighting, pendant lights are now found all over the home. No matter where you chose to put them, they are an excellent choice for creating an even distribution of light for tasking purposes and to add to ambient lighting. The Greenwich and Richmond are equally beautiful suspended from a vaulted ceiling in a converted barn, loft space or hall – or above a kitchen top or dinind table. Anywhere you choose, these oversized lights are a show-stopping statement for the modern country home.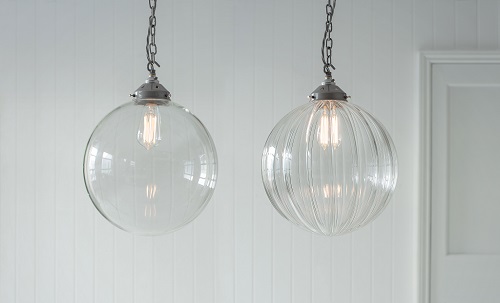 We polish our forged iron to a gunmetal/pewter finish, then seal with a lacquer to create this slick, silvery look which blends beautifully into home styles old and new.
CARE ADVICE
We advise you clean your polished items once or twice a year at least with a soft cloth. You can seal any chips and scratches in the lacquer itself with a high quality natural beeswax. This keeps the product clean and weatherproof. Lacquers may deteriorate over time in exposed or damp conditions and regular waxing will prolong the life of the product.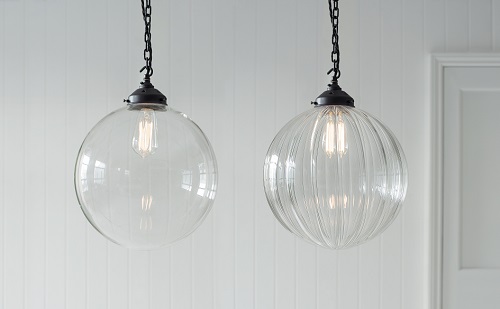 A clean uniform finish, the paint is applied with a powder coating process that creates a smooth, hard-wearing surface. This Matt Black look gives these lights a more contemporary industrial feel, a truly stylish addition for more modern homes.
CARE ADVICE
As this is a powder coated painted finish it will require no on-going upkeep, however we would advise that you simply wipe it over with a clean, lint free, soft cloth from time to time to remove any residual build-up of dust and dirt on the product.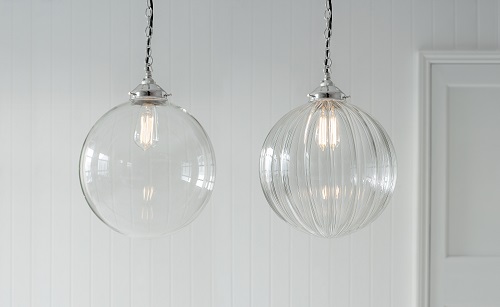 To create this crisp clean finish we coat solid brass with a heavy plate of nickel and then a flash layer of chromium to ensure a long life. Glossy and bright, we think this is the best option for kitchen use, the shine of glass and metal helping the bulb to look suspended lightly in the air.
CARE ADVICE
Our bright nickel finish is simply maintained by regularly wiping over with a slightly damp, soft cloth using a very mild soapy water solution. This will remove any grease spots or smudges on the product. For a more persistent blemishes on your products we suggest using a soft lint free cloth and a small amount of chrome polish.
Inspired and want to see more? Browse all our Glass Pendant lighting here. If you love the look but want to save the idea for later, follow our Pinterest and pin these images to a mood board. Share your styling with us on Instagram, Twitter and Facebook – we love seeing our products in their new homes. Happy Shopping!