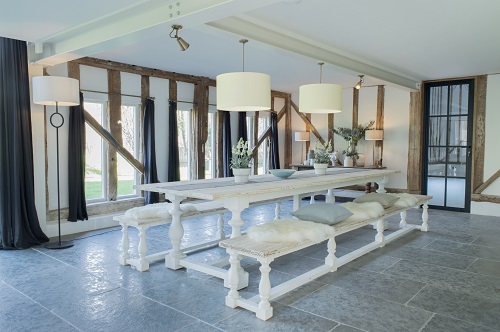 Using elegant glass pendants or natural linen lampshades is a great way to subtly add task lighting into a dining space. With many of our designs you can do this without blocking your line of vision through the room. The table is the central gathering point in your dining space, and much like a kitchen island benefits from task lighting, this area does too. Here are a few of our favourite elegant pendant lighting ideas for the dining room…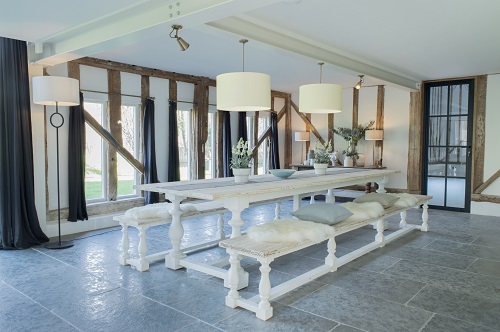 We are often asked about the rules of island or dining pendants. In our opinion… create your own! You might think that oversized lampshades can't be elegant, but our 'Shared Space' styling in our Suffolk Barn Renovation above uses large shades without letting them overpower the room. Instead they create a gently translucent light over the table, softening the heavy, rustic beams.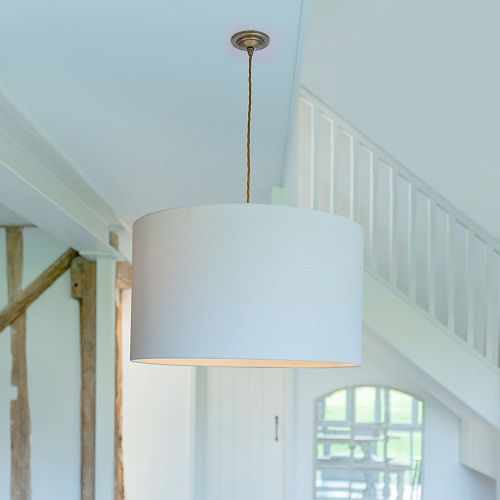 As in our Shared Space, you too can create lovely layers of light for a relaxed, easy atmosphere to share with friends and family by pairing generously sizes shades with the metallic hues of your light fittings. We supply 50cm of bronze braided cable with our Pendant Lampholders and a hand finished ceiling rose in natural brass that's lightly antiqued, so you can be in charge of how high or low you suspend your shades.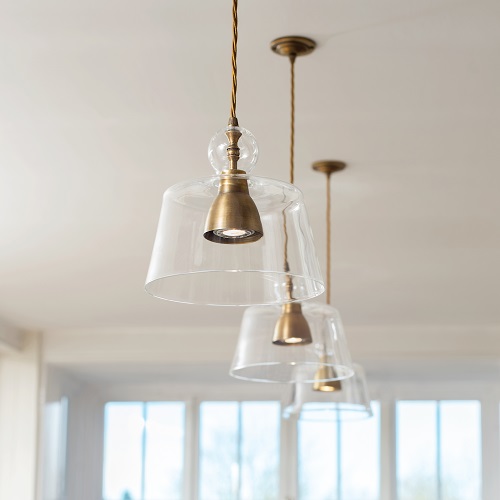 Our Lovell Pendants hold their own and add character to the décor without looking clunky. They're the perfect example of how to use lights that appear dainty and space saving, but say a lot more than an exposed bulb or single fitting. The glass shade fills your space without imposing on the rest of the room. We love that a small bit of Antiqued Brass is also exposed, and can be perfectly matched to other brass accessories like switches or sockets. Simple yet effective.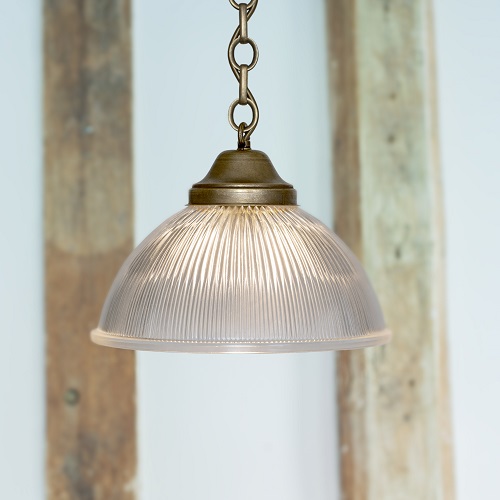 For a weightier, more industrial country style that still gives a more lightweight look than a full shade, the Foster is for you… A reeded, hand blown shade gives a softer touch, whilst the steadfastness of an Antiqued Brass chain ensures it makes a lasting statement in your room.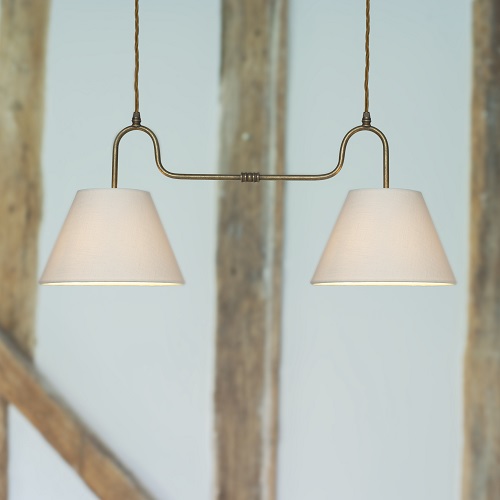 Architectural but slimline, the Barchester Double Pendant is a unique pendant that gives a little more than just installing two separate lights. The height of the cable is adjustable, making sure your get your pool of light to dine by just right. The natural candle shades and brass mimic the white walls and beams here, giving the décor that effortlessly cohesive feel.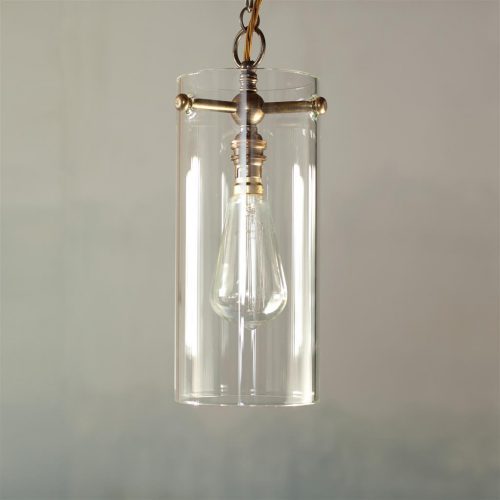 For those will a smaller space to fill, the Bellingham Pendant is a nod to the 'industrial luxe' style whilst embracing simplicity. Its clear glass shade is cleverly suspended from three brass arms within its top, making a beautifully simple feature to fit over your dining area. Finish it off with a vintage-look LED Squirrel Bulb.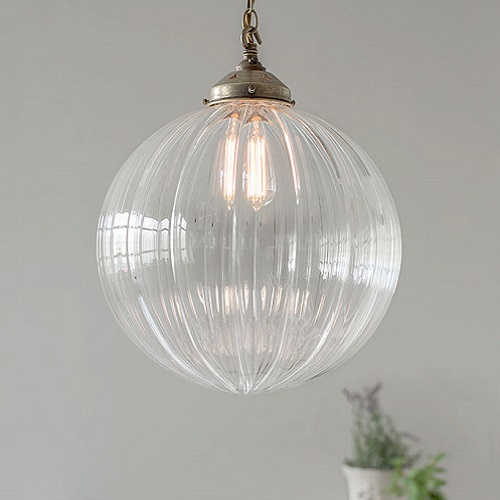 Last but not least…a Jim Lawrence favourite. The Greenwich Pendant features an oversized, hand blown fluted glass shade that plays with natural light in the most wonderful way, ensuring it catches your eye wherever it is hung. Pairing vintage style brass work with a modern glass shade gives the Greenwich a fabulous country modern feel without looking overbearing or out of place.
Like what you see? View our entire collection of Pendant Lights here. If you have any questions about fitting your lights, we are always happy to help, so give us a call or drop us an email and we will do our best to meet your needs.
Don't forget to tag us in all your gorgeous Jim Lawrence home updates on Instagram @JimLawrenceMade. Happy shopping!