We make our aged brass lighting the Jim Lawrence way because we love them, but it's always a treat when interior trends line up with our designs. We spotted an appreciation for 'Real Brass' in this gorgeous Apartment Therapy article. Of course trends ebb and flow, but our Antiqued Brass lighting is made to last, and once you choose our designs your love for them will last too.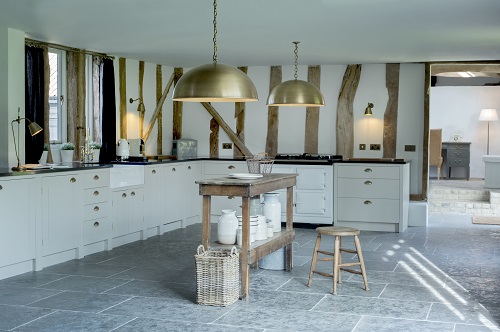 "We are already seeing a bit of a trend toward new traditional interiors with classic lines and updated colors," says Janet Lorusso of JRL Interiors. "This has already produced a return to real brass, not the fake lacquered shiny brass, in classic fixtures and chandeliers." 
Of course you can opt for genuine vintage lighting for one-off designs, but with our specialist finish we offer you versatile new lighting made by hand using old techniques. So you get the best of both! When it comes to our brass lighting, we create our version of this traditional look by treating solid brass with an antiquing solution, which simply speeds up the natural tarnishing process. All Jim Lawrence lights are made using traditional metal working techniques and are hand finished to the very highest standards here at our Suffolk workshop, meaning the inside of our lights are as impeccable as their exterior.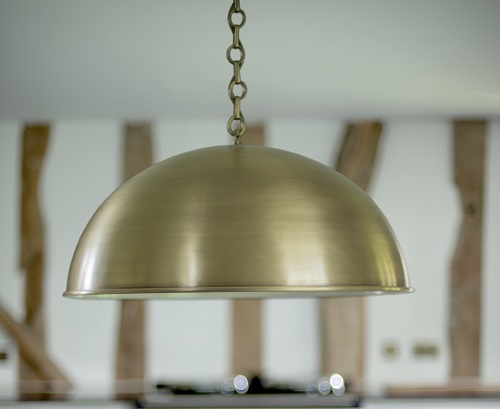 Oversized lighting is growing in popularity as home décor gets bolder and braver. If your home has emphasised features (just like the exposed beams of our renovated Scotland Hall Barn) then ensure your ceiling lights don't get lost in the room by choosing an upscaled statement design. These Leiston Pendants have a large, gently curved dome shade with a coordinating aged brass chain for a sturdy but chic industrial look.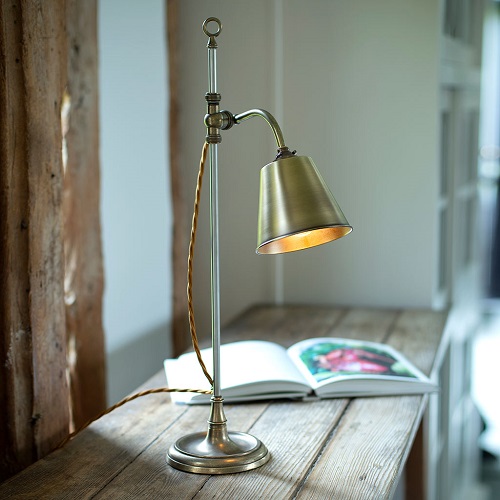 Our Abercrombie Table Lamp has been designed with a heritage look that makes it as handsome when it is turned off as it does when it casts its pool of light across your countertop, bedside table or desk. It's the perfect task light for further brightening areas that your pendants may not reach.
Incorporating a traditional spun brass shade and base with a contemporary steel stem, and featuring an exposed braided cable, the Abercrombie will sit as comfortably in a modern setting as it would a period one, while its Antiqued Brass finish works well with any colourway.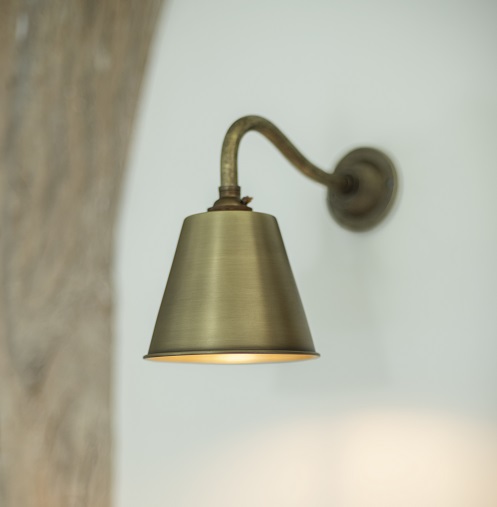 Where it might be difficult to install overhead lighting, wall lights are a fool proof go-to. The Club Wall Light is a neat, space-saving design with a period presence that produces a lovely pool of light for a subdued atmosphere in a large room. We do suggest layering both ceiling and wall lighting, ensuring you maintain a healthy balance of light. Our Antiqued Brass designs will bring a glowing warmth to your décor even when they're switched off!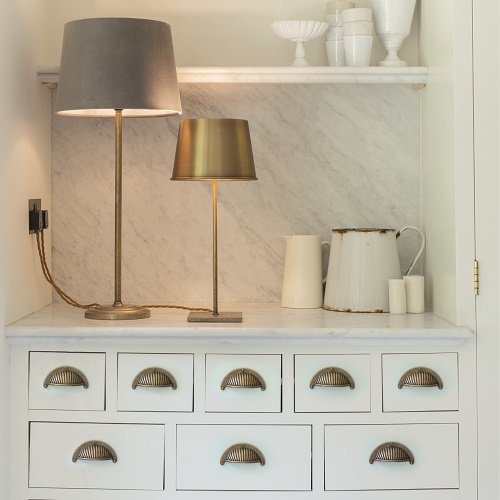 For a uniform look throughout your home, match your Antiqued Brass lighting with any of our stunning door and window furniture in the same finish, or with our range of matching electric switches and plugs. If you would prefer to create a contrast, see which other product finishes we offer.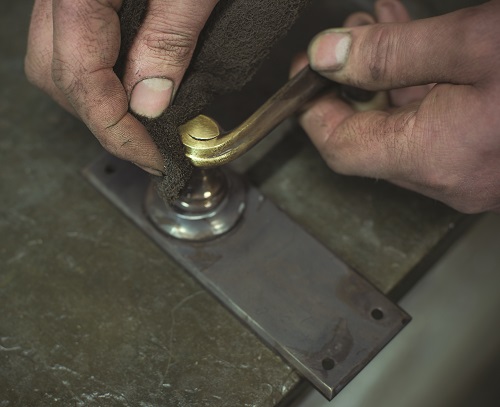 Our Antiqued Brass products are created from natural, un-lacquered brass and will continue to age and develop a darker dull patina over time in your home. This is particularly hastened in harsh outdoor or damper environments. To decelerate this aging process we recommend regular polishing with a good quality brass polish and a soft cloth. Please note that chemical polishes can strip away the original antiquing solution too, so take care to use cleaning products sparingly to retain the aged look of the product.
Explore our full collection of lighting and homeware here. If you have any questions about fitting your lights, we are always happy to help, so give us a call or drop us an email and we will do our best to meet your needs.
Don't forget to tag us in all your gorgeous Jim Lawrence home updates on Instagram @JimLawrenceMade. Happy shopping!