Before we say goodbye to Summer, we thought we'd visit our favourite interior style of the moment: "the refined bohemian" home. We have long been enamoured by the beach house look of flowing linen curtains framing a sea view, worn wooden panelled shacks and woven rope and wood accessories. It's modern rustic at its finest, with a more refined and translatable look that can be worked into homes everywhere. It's laid back but carefully curated, it's minimal but with a homely, vintage-inspired edge. It's new and old in perfect harmony. We've selected six of our favourite customer photographs and a few of our own that we think exude refined bohemia, Jim Lawrence style…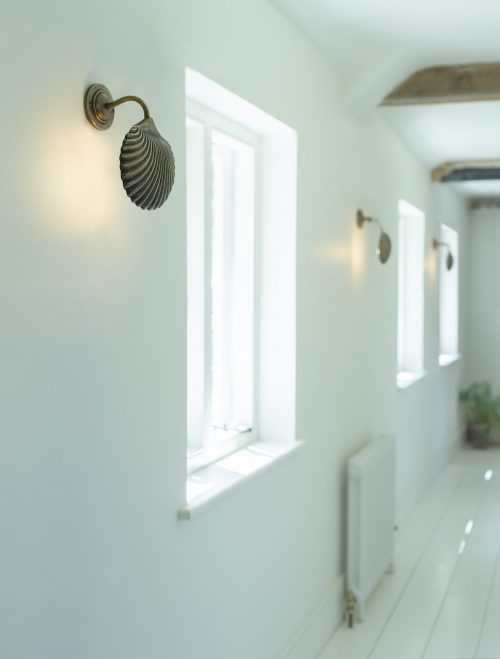 We thought we'd kick start this look with a spotlight on our Scallop Wall Lights in Antiqued Brass. Adding an instant update of coastal character, this light has been carefully designed to combine a decorative shade with a subdued backlight, perfect for creating mood lighting in a bedroom, study, cloakroom or open plan living space.
This eye-catching piece was inspired by Jim & Sheena's holidays to the West Coast of Scotland, where fresh scallops were always on the menu and finding shells on the beach when the children were young was a favourite past time. Lovingly hand forged from solid natural brass that has been lightly antiqued for a subtly aged look, our Scallop has a wonderfully tactile quality that befits its handmade nature.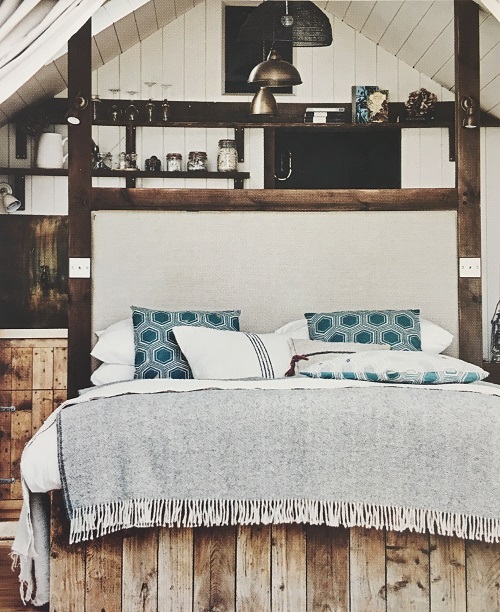 We couldn't compile this list without mentioning our favourite stylist Sally Denning. Sally's latest book 'Relaxed Coastal' style was published last year, and has paved the way for neutral toned, modern rustic interiors everywhere. We love this shot featuring our Butler and Barbican pendants. They are right at home against a backdrop of rugged stripped and painted wood with textured blankets. The perfect palette to kick start your relaxed yet refined décor. To find out more about Sally's gorgeous book, read our blog post about it here.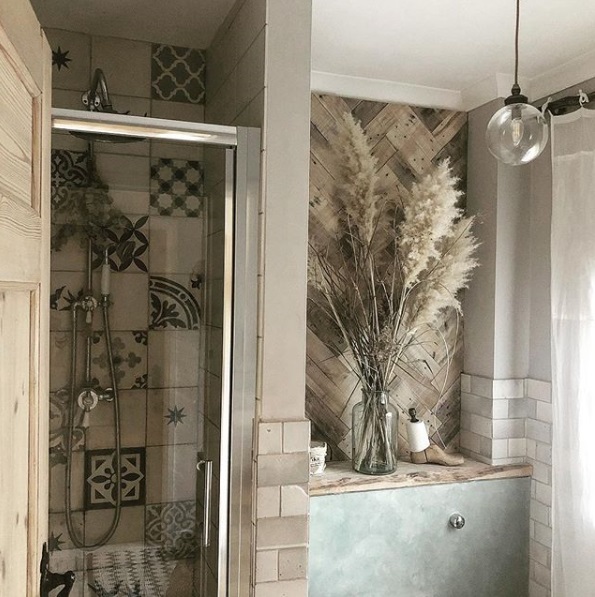 This bathroom from Kay at @kinship_creativedc embodies our experience of refined bohemian style. Made up of only sustainably or locally sourced items, Kay shows how you can BE a refined bohemian as well as create a room that shows off the style. The light she's used is our Compton Pendant in Antiqued Brass, blending gorgeously into the earthy colours of this bathroom. The Moroccan-inspired tiles exude the cool Eastern look – a fun alternative to regular metro tiles. Using reclaimed and quality local items will help you keep an eco ethos whilst renovating. It's amazing what you can achieve.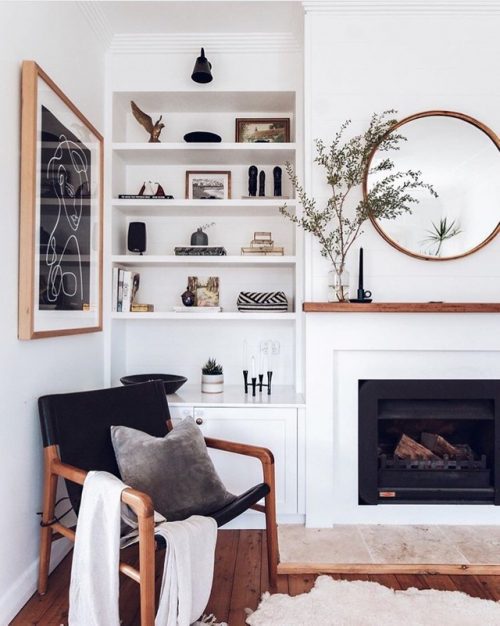 Customer Maddy from @hutchinson.house has nailed chic bohemian living with her impeccably curated but laid back, comfortably styled home. We love the drama of matt black throughout, offsetting the creamy white and warm teak woods of her beachside home. The Club Wall Light in Matt Black is the perfect lighting choice here: lighting up the shelving display when on, and looking like one of the ornaments when off. Layering rugs and blankets also ramps up the 'lived in' feel, making sure it's all living room, not showroom.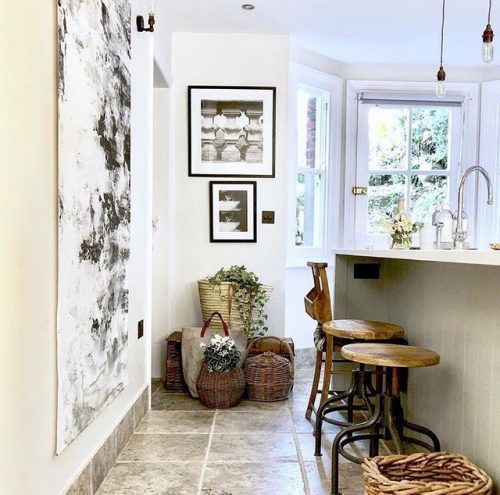 This kitchen space is from Sian of @restored_home. Neutrals, monochrome, leather and rustic woods are all woven though Sian's home, and when you add in rattan baskets and our brass lighting you've got one stylish interior. Using our Thorpe Wall Light and Pendant Lampholders, Sian uses vintage look bulbs to give an industrial edge to her laid back living spaces. In our Beautiful Homes interview, she said: "It's a good contrast against the elegance of Georgian homes and the rustic nature of country/cottage homes, without being too harsh and conflicting. It also means that the lights and fittings speak for themselves and you can then use other soft furnishings to introduce pattern and texture." See more of her décor and read the interview here.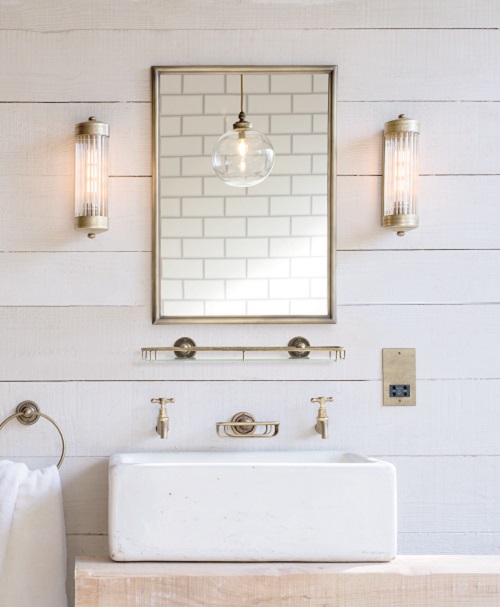 Wooden panelling, natural wood and brass make a gorgeous and tactile trio. Our popular Bletchley Bathroom Collection encapsulates a simple, old-fashioned utility style that blends seamlessly with both period and contemporary bathrooms. Ideal for your refined beach style interior, the lightly antiqued finish adds warmth to light spaces, it's made with modern rustic, refined bohemia in mind.
Do you have a Jim Lawrence home you want to share? Be sure to follow us on Instagram, Facebook and Pinterest and tag us in your interior updates. We love to see our products in their new homes. To view our full lighting collection, visit our website.