We love an opportunity to celebrate our rural roots in the East of England. Local to us in beautiful Suffolk, Husk in Thorington is a new destination for foodies and interior lovers, offering supper clubs and luxury weekend stays. With menus directly inspired by the immediate landscape and decor made up of reclaimed finds and local manufacturers like us, chefs Joey O'Hare and Katy Taylor have created a hub of local talent that's not to be missed.
Welcome to the style journal, Joey and Katy! We are delighted to delve a little further into Husk. Where did it all begin?
As a couple we planned menus, cooked, and hosted since day one. Running a supper club and hosting guests in a B&B has always been our dream and suits our skillset very well. It's great fun too! Post-lockdown a Suffolk farmstead with really charming outbuildings became available near Joey's parents and we had to jump at the chance. It was the ideal site for a foodie, eco retreat with many mature fruit trees, wide and wild views, and a field ripe for a kitchen garden.

Why Suffolk?

We adore Suffolk and have been visiting Joey's parents here for years. The quality of local produce makes it a chef's paradise – the freshest fish from the North Sea, world class dairy from Fen Farm, amazing heritage grains and pulses from Hodmedods – the list goes on!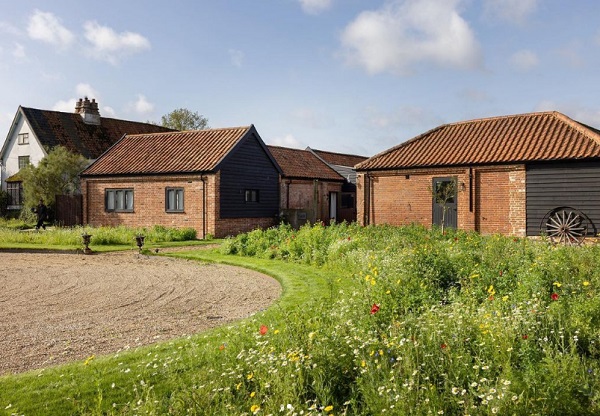 Tell us about your recently opened luxury stays, and your intention for these beautiful suites.

We hope to offer guests the ultimate 'slow weekend' with a real chance to switch off, eat well, and connect with nature. There's a natural cold water swimming pool with exceptional views over fallow farmland, and an eco sauna to warm up afterwards. Guests can book into a supper club for a four-course seasonal supper, or help themselves to organic wines, local ales, and delicious snacks from 'The Pantry'.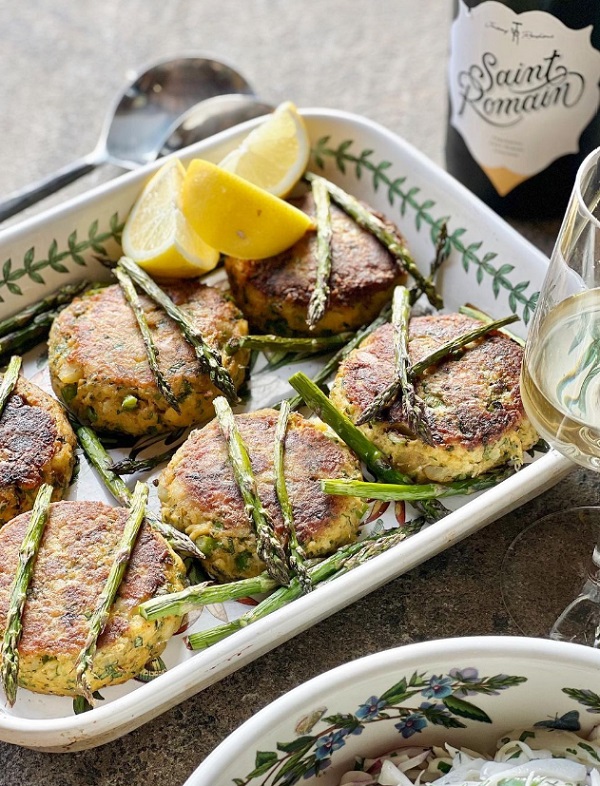 We are thrilled that you have chosen Jim Lawrence for the rooms, are all the furnishings sourced locally?

Yes. We have been pretty meticulous about decorating the rooms with antique or second-hand furniture sourced locally, and where we've purchased new items we've sourced beautiful pieces from local makers such as Jim Lawrence for lighting, Soendergaard Design for tableware and ceramics, and Loggique for organic soaps for the rooms.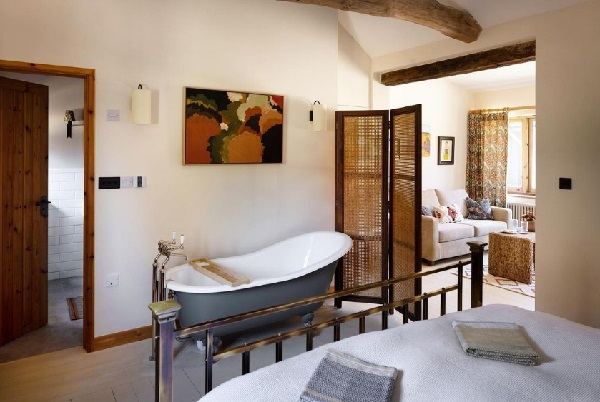 Your food looks fantastic and is made with a genuine 'farm to table' ethos. What can guests expect when they join you for supper?
Guests sit around an enormous oak table crafted from a 350-year-old oak tree which fell in a storm here on the farm; the beauty of its size made only from a single stave and its natural wavey edge is a real talking point. At each supper club guests are greeted with a seasonal sour or spritz crafted with house made cordials and schnapps.
We grow much of the organic veg ourselves in the kitchen garden, and all the eggs come from Katy's growing flock of geese, ducks, chickens, and quails! We are blessed with many mature fruit trees so guests can expect lots of creative dishes involving quince, damsons, apples, gooseberries and more.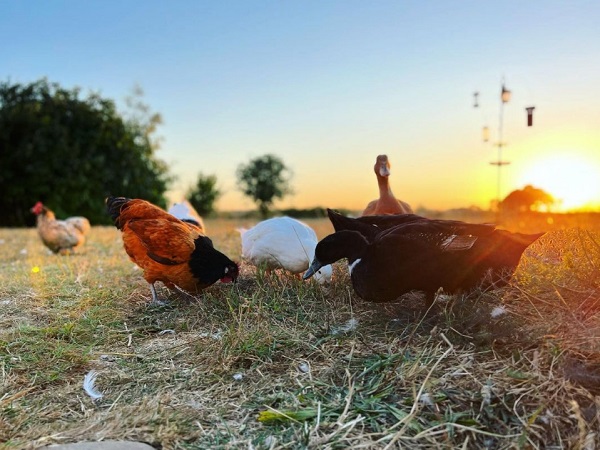 As we tip toe toward the winter months, where are the best places to seek foraged finds at this time of year?
The orchard fruits are nearing their end, though we still have a healthy crop of Bramley apples to get through – we've been making Bramley sorbet to serve with local Apple Brandy as a digestif. And the hedgerows are bursting with bright rosehips which we will be simmering into cordials for our welcome cocktails.
What advice do you have for the novice cook who might want to liven up a few meals with a homegrown or handpicked ingredient?

Don't miss the wild garlic season in Spring! It's a great one if you are new to foraging as you can't really get mixed up with anything else and its flavour is astounding. Try a simple pesto.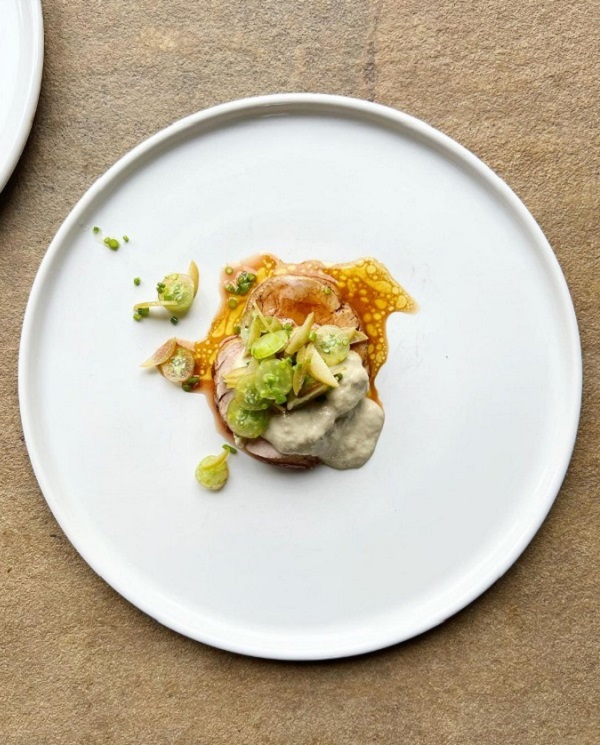 Do you have any favourite ways to add a similarly seasonal touch to your décor?
What a great question – yes! At Husk we love 'bringing the outside in' both in our guest rooms and in the dining room. In late summer we decorated the table with posies of wildflowers from the meadow, and now we're creating more autumnal bouquets with Christmas Box, holly and rosehips. We fire up the log burner in the dining room too for an extra hygge vibe.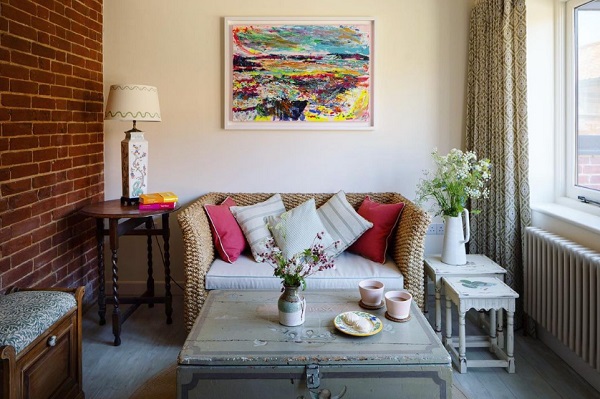 A magical space like yours certainly helps, but are there any fail-safes to boost a relaxed atmosphere at the dining table?
Well, a welcome cocktail certainly helps! Keep the lighting gentle and use tea lights on the table to create a cozy and intimate atmosphere. Forage flowers or greenery from your garden rather than buy in flowers for the table, this enhances a connection with nature and at Husk it goes hand in hand with our local, seasonal menus and ethos. And fine tune a cracking playlist! We've been working hard on our ever-evolving supper club playlist of singer-songwriter classics.
What plans do you have for husk going forward?

Continue to serve our loyal locals at the supper club, and welcome guests from further afield as well now that we have the rooms open for weekend stays. Cooking classes are launching this Autumn too so please watch this space.
Finally, a few quick-fire questions… Three words to summarise how you want your guests to feel when they arrive.
Welcomed, relaxed, and hungry!
Three words for when they leave.
Content, merry, and replete (though never too full!)
What's the staple item that every kitchen needs?
A great chef's knife.
Your favourite Jim Lawrence product?
The Lamarsh Wall Light – it's so elegant and contemporary, and it hangs really beautifully against the old exposed brick walls within the dining room. We love the gentle up and down light it offers the space.


DISCOVER MORE
Follow Husk on Instagram (@huskthorington) for plenty of enticing food photography and behind-the-scenes shots of the hoemstead. Visit www.huskthorington.co.uk to book your supper club or stay. To stay up to date with Jim Lawrence, follow us on Instagram, Facebook and Pinterest. Browse our website to see all of our hand forged and finished lighting and homeware.