In our Suffolk workshop we employ a skilled team of 150 engineers, painters, seamstresses, designers, lampshade makers and technicians alongside a full cohort of support staff. As we unpick the Jim Lawrence family and invite you to see a day in the life of our makers, we want to introduce you to a huge part of our heritage: the welders. This is really where it all began, using traditional metal working techniques here in Suffolk. We chat to our Technical Lead, Lee Saxby about this craft and how we create the lights you love.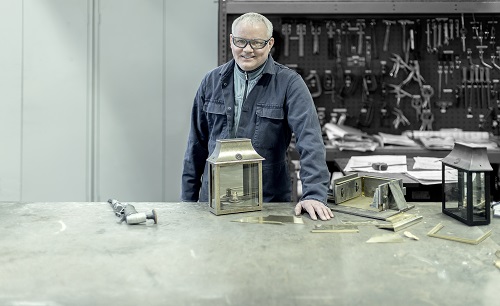 Firstly, can you tell us who makes up the team?
There are about 20 welders, aged from 18 to their mid 60s, split into two teams, one working with steel the other with brass as they are different metals that require different types of welding.
Talk us through your typical workday in the workshop.
Our working day is generally 8am to 4.30pm but everyone works different shifts within that. We all have our own benches or workstations where the supervisors will have given us our job sheets for the day so that everyone knows what they are working on and how many they need to make by the end of the day.
A typical job varies between 4-5 hours for a large or complicated light, to one every 5 minutes for a simpler design. We have a tea break at 10.30-10.45, half an hour for lunch any time between 1 & 2pm and finish at around 4.30pm.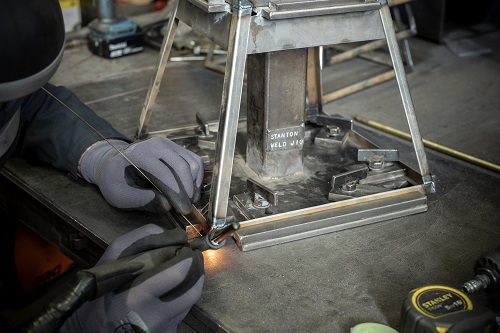 How many products do you now make in a day?
It depends which products we are making. As a team we can make 2-300 smaller lights like the Thorpe or Cranfield spotlight in a day, but if we're working on a new Sussex wall or pendant light, we'll only produce one a day as they are a more ornate so there's a lot of welding involved.
Can you describe the key steps of the welding process?
The first thing we do is collect the carcass (component parts) for the product we are making. These will have been picked from the storeroom when a customer's order comes through and passed on to us. We always make products in batches, regardless of how many orders there are so that we have enough kept in stock.
The first thing we do is clean the raw metal with a shot blaster to get rid of any scale that has built up. Then we use a Tig to weld the joints together to build the three dimensional product. When it is finished, we use a circular grinder to clean up the metalwork, going over the joints and edges to remove any rough bits so that it's sharp, clean and tidy.
When we've done, we'll put the products on the Quality Control shelf to be inspected. If they pass, they will be given to the finishing teams who will paint, polish or antique the products ready to be wired up. If the products don't pass QC, we have to take them back and continue working on them until they do.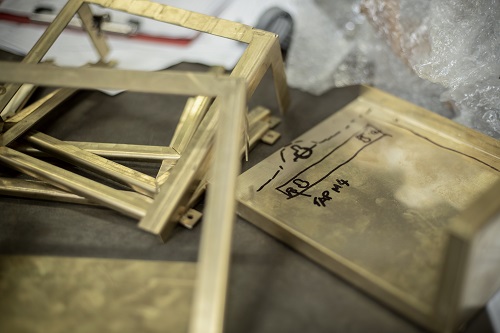 Like many of our makers at Jim Lawrence, it must be rewarding to be making something creative with your hands – though very hard work! With well over three thousand products available, what is the most challenging Jim Lawrence product to create?
Definitely the Montgomery or Sussex lights (shown below) which can take around 16 hours to make and require experienced welders with specialist skills. They are beautiful designs but incredibly complicated to make. The Large Charlecote Lantern is another example. The tables we make are surprisingly difficult because although they look relatively simple, all the legs and edges need welding and the smallest mistake can be very visible.
As a team, do you ever have any input on the design process?
Yes, the design team are always asking us if it's possible to make the things they dream up. They need to know what is the best way to make it, what the pitfalls are and if it can be made more efficiently.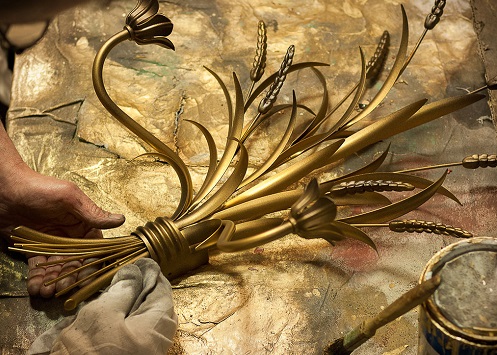 Do you get to work on any creative bespoke requests?
Not as many as we used to because as demand has risen and the company has grown, we've had to stop a lot of our bespoke work in favour of keeping up with our stocked products. I remember having to make two huge wagon wheel style lights for a converted barn in France a few years ago, and we once had a request to make metal flags and flagpoles for a turret on a country mansion, which was quite a job!
Going from a smaller farm forge and expanding to a location where you're welding for one of the country's leading lighting and home furnishings retailers, your roles and responsibilities must have changed. How has this effected the craft?

Well, I've been at Jim Lawrence for around 20 years so I've seen a lot of changes. Back in the day at Jim's farm there were only five or six of us making about 20 products a month, whereas now there are 15 or 16 of us making 80-90. A lot of what we do now is about constantly asking ourselves what we can do to make things more efficient so we can get them out quicker. We used to have to do everything whereas now we have machinery to deal with repetitive tasks which is great because it means you can get on with the more fun stuff.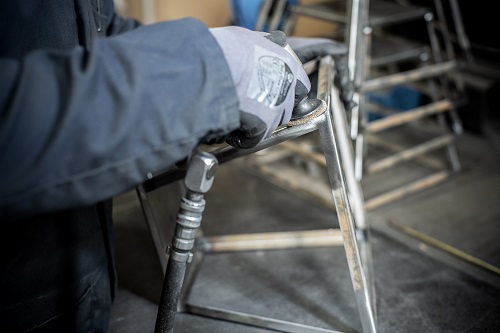 We are very lucky to be able to preserve this traditional way of making, including hand finishing our products. Why do you think people love to know that their products are handmade?
You can tell something is handmade by the quality of it. It just looks and feels different which people really appreciate. To us, when you make products yourself, you put your heart into it because you are doing what you love and you want it to be the best example of your work, so it shows in the finished result. It doesn't matter if it's a door hook or a glass pendant light, you want people to love it and they generally do.
Finally, many of our employees have been here long term, including most of you! What's the best part of working for a family business like Jim Lawrence?

To me it's because it's personal. I've worked with a lot of the team for years so we've become good friends and have a great understanding of the pressures of the job. Jim used to work with us in the workshop and he and Sheena are still very hands on and come down all the time. Our managers also worked alongside us once, so you build up good relationships and new people find it easy to fit in.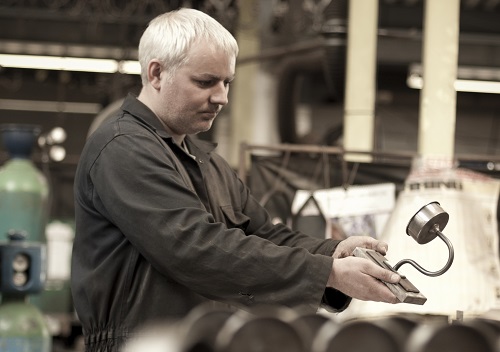 You can browse all of our hand forged products on our website and enjoy other stylish customer homes on Instagram. Don't forget to tag us in your own imagery on Instagram, Twitter and Facebook – we love seeing our products in their new homes. 
Did you know you can visit our Suffolk workshop? Our showroom and workshops are located here: Jim Lawrence Traditional Ironworks, The Ironworks, Lady Lane, Hadleigh, Suffolk, IP7 6BQ. Anyone is welcome to enjoy and shop the showroom, but please contact us in advance should you want a group tour of the workshops and warehouses: we are very open to showing you where your products are made, but do require some notice.