Founded in 2021 by two friends, Charlotte and Kerrie, Torn & Cotton Interiors believe in creating interiors that are timeless, comfortable and considered. Creating drama with neutral palettes and bold contrasts alike, their decor is both harmonious and striking, a hard-to-reach achievement that we have very much enjoyed oggling over on their Instagram over the last year. We caught up with Charlotte and Kerrie to find out more about their ethos and how to ensure uniqueness is embraced in every home.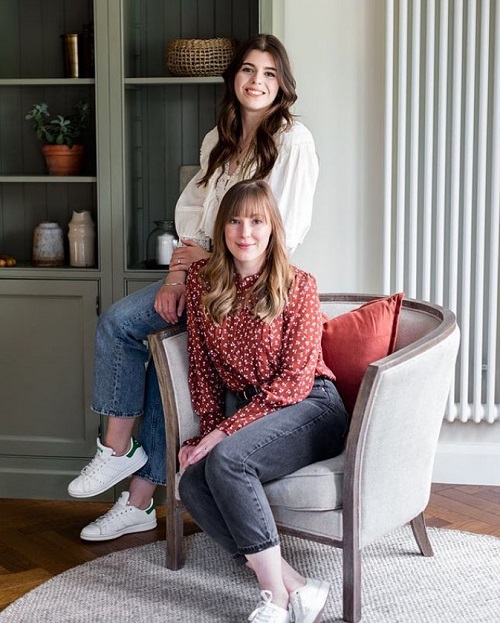 Can you tell us a bit about how you both discovered and refined the style of Torn & Cotton Interiors?
Discovering our style is something that happened gradually throughout our teens. Our tastes were often similar, and we would turn up to social events wearing the same outfit, or the same but in a different colour – we've ended up doing the same for client meetings sometimes too! It's safe to say we always knew our styles were very much aligned, long before we were designing together!
When we were eventually old enough to be buying our first homes and renovating, we realised that not only did we buy similar clothes, we also had a very similar style when it came to interiors and a shared passion (read obsession!) for it. We both have a desire to combine classic and contemporary styles, and a shared love for nature inspired interiors by bringing natural fabrics, colours and pattern into the home. We always work together on our projects and really enjoy bouncing ideas off one another until it snowballs into this beautiful, shared objective.
Being in our second year in business, refining our style is something we work on continuously with each project that we take on, and it has a lot to do with the lovely clients who come to us because they've seen our work and like our portfolio and trust in us to express our style. We feel its hugely important as designers to have a signature style that brings in a specific client, but that also grows and evolves over time. As well as our designs reflecting our own style as a business, it's also important to us to ensure the personalities of each of our clients are reflected into our designs. The interior of your home is a reflection of who you are, so we are dedicated to ensuring our clients homes are individual to them whilst getting the Torn & Cotton Interiors touch.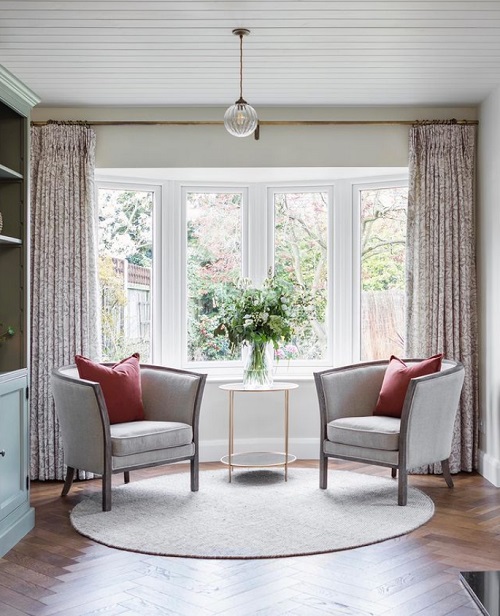 You have been friends for 10+ years, how did you meet and at what point did you decide to pursue a business together?
We met at school in 6th form and became friends along with a larger group of girlfriends, who we are still very close with to this day! We had many a conversation about our desire to work for ourselves and run our own businesses one day (usually after a couple of red wines), however the matter of us actually working together wasn't properly discussed until the pair of us started having children. The more we talked about it, the more it seemed like a great idea. It then of course took time for the cogs to start turning, and for us to work out the logistics, but we both ultimately shared the same goal, and our personalities seemed to complement each other, so we thought why not!? It's been a beautiful whirlwind ever since.
Torn & Cotton Interiors believe in creating interiors that are 'timeless, comfortable, and considered', how does this translate in practice?
When we are developing designs for a client it is important to us that these three aspects are always reflected upon. Timeless design is so important to us as we want to create something for our clients that will stand the test of time and that isn't just a fly by trend. Of course, there will always be trends that come and go in interiors, some may have their place or may be perfect for a client, but what is key is to ensure the design in its entirety has longevity to it. A comfortable design is vital as we want the spaces we design to be loved and 'lived in'. We strongly believe that your home should be your sanctuary, somewhere that brings you peace.
A considered design quite literally means that we ensure each aspect of the space and the design has been carefully considered, all the details have been accounted for ensuring that everything in the space works in harmony together and is fully functional for modern day life.
We love how you layer tone and texture in your rooms. How do you go about choosing a colour scheme?
How we choose a colour scheme for a room will vary from project to project depending on a multitude of aspects, whether that's the clients particular brief, the surroundings of the space, the amount of light within the room, the type of room, the age and style of the building. Once we have determined the brief and/or starting point from the client, we go from there and start gathering inspiration for the design. Before making any final decisions, it is always so important to ensure colours and samples are checked on site too.
You've used our Club Wall Lights and Fulbourn Pendant in a recent project and to beautiful effect we have to say! What do you look for when choosing lighting for a room?
Thank you! The club lights are a favourite of ours. When choosing lighting for a room they need to be functional for the particular area they are being used in, beautiful, and in line with the design scheme in terms of finish and form.
Though there is a wealth of gorgeous inspiration on platforms like Instagram, sometimes it seems like a lot of houses can end up looking the same based on what is trending at the time. How do you ensure a uniqueness is felt in each a home?
A big part of being an interior designer is working with people from all different walks of life. It's our job to get to know our clients, attempt to climb inside their minds and work out what it is that they want and understand how they live. That's why we ask questions like, what do you do for work? Who do you live with? What's your shoe size? (Just kidding).
But seriously, we have to know these things. It's actually in our job description to be nosey! After all, how could we possibly design a home for someone we barely know? We therefore ensure uniqueness by making sure the clients own personal style is reflected within our designs whilst also trying to push their boundaries in the most creative ways possible.

Do you have one key piece of styling advice that you can share with us?
Our key piece of advice would quite simply be to surround yourself with the things that you love. One thing we would say is not to get het up on 'trends' and so called 'must haves'. Be yourself. Seen something unusual that you feel really drawn to? Get it. Love the idea of painting your own artwork for your hallway? Do it! Your home should be individual to you and reflect your style and personality. Style is so subjective. No two people will style a room the same so our advice would be to try not to worry about what's right and what's wrong. Don't fear that what you are doing won't be liked, just do what feels good to you and what you love the look of. Your home is your own sanctuary.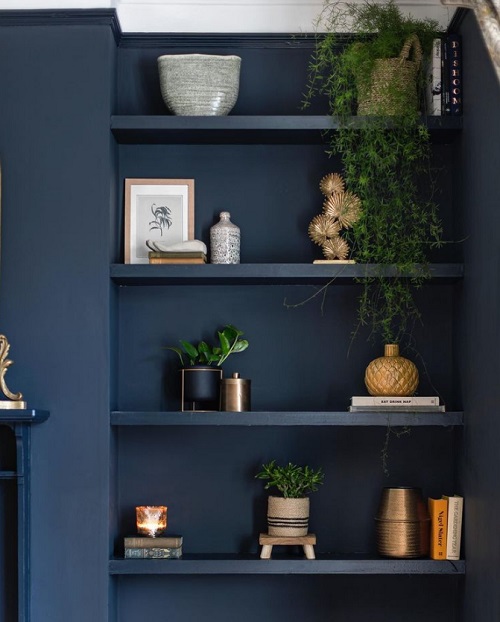 A few quick-fire questions…What are your three tips for making a house a home?  
Add soft furnishings and natural textures to create a warm and inviting environment to ensure your space doesn't feel too cold and clinical.
Surround yourself with items that feel special to you. Collect pieces that make you happy.
Make your home functional as well as beautiful, for example by creating useful/clever storage.

What's the staple homeware piece that every house needs?
Some Jim Lawrence lighting of course! In all seriousness, Jim Lawrence is our go to for classic, quality lighting that will make a statement in your home.
Your favourite Jim Lawrence product?
It has to be the Club lights: classic, timeless, simply beautiful.
Finally, what are you most looking forward to for Torn & Cotton Interiors?
This year we have lots of or beautiful projects coming to an end and we can't wait to get them all photographed! Stay tuned!

If you too are inspired by Charlotte and Kerrie's designs, for more of their interior styling portfolio follow @tornandcottoninteriors on Instagram. All Torn & Cotton images shown are taken by Laura Malin Photo. To stay up to date with Jim Lawrence, follow us on Instagram, Facebook and Pinterest. Browse our website to see all of our hand forged and finished lighting and homeware.
GET THE TORN & COTTON LOOK


Brass Curtain Pole in Antiqued Brass, Fulbourn Pendant Light, Burnt Orange Cushion Cover, Club Wall Light