What does 'country cosiness' mean to you? For us it's a glowing hearth, soft muted colours and a touch of well-loved rustic metal. Just like our individual tastes, it is only right that all homes are unique, but there are certainly some universal trends that stay in keeping with the well-loved country cottage style.
It's easy to enjoy an authentic country interior by inviting metallic copper tones into your kitchen. A striking accent colour for lighting fixtures and fittings, copper lends a subtle blush warmth to your decor. Our Heritage Copper is a natural durable metal with a stunning patina that will turn up the modern country dial with little effort. Think vintage jelly molds and antique pots and pans…beautiful against classic white paint or alongside on-trend darker tones, it's hard to imagine a true country kitchen without it.
Here are some simple ways to incorporate our hand finished copper lighting and accessories into your home this season that you can enjoy for a lifetime.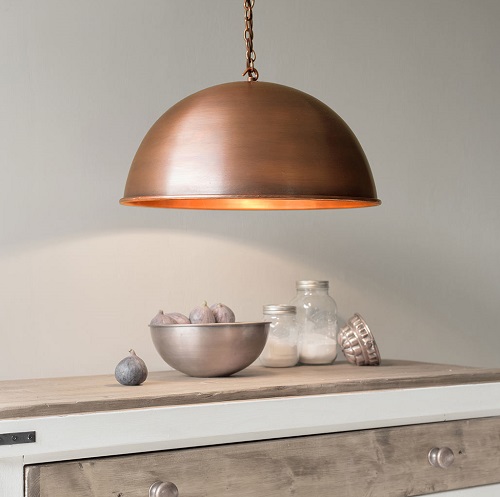 LIGHTING STYLES FOR YOUR COPPER KITCHEN: TIMELESS GLASS
The translucent qualities of glass can transform a room, creating a stunning focal point without losing any sense of space. Our hand blown glass shades in plain, fluted and coloured glass styles, are specially designed to hang above kitchen islands and breakfast bars where they will make the most of natural light to create a bright and airy sense of space and feeling of flow from one area of your kitchen to another. If you need tips on where to hang your kitchen pendants, the best place to go is our handy how-to guide.

The fluted hand blown glass of the Fulbourn is a striking choice, creating the illusion of softness whilst still illuminating your space with its warm white light.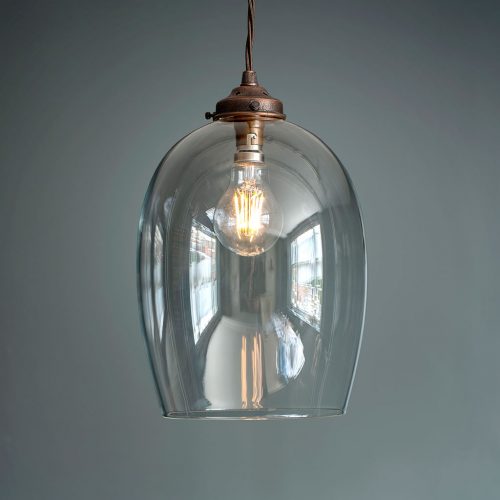 A go-to for kitchens and dining rooms, the Walcot would look wonderful teamed up with a display of authentic copper pots and pans in a traditional country home.
THE FARMHOUSE LOOK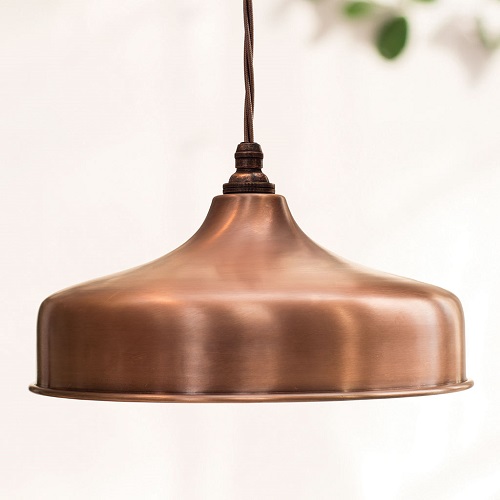 Turn up your country style with gently rustic solid metal shades. Enhance warm tones and texture with period-inspired detailing to bring an authentic farmhouse look into your home. A classic pendant ceiling light with a nod to retro styling, the Exeter is designed for a country kitchen, where it looks fabulous on its own or in a pair.

The dainty Barbican Pendant light is one of our most popular and versatile pendants lights. With its elegant silhouette and smaller proportions it works wonderfully in pairs or a trio above a dining table, breakfast bar or island unit.
IN THE SPOTLIGHT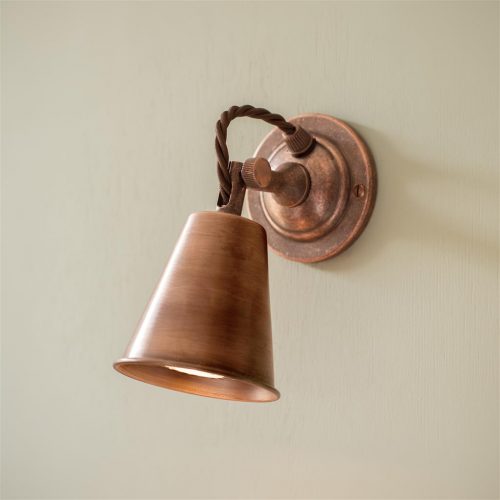 For rooms that need a lift in hard to reach places, our copper Curtis Spot Lights are a practical, modern choice that still blend effortlessly into a period room.
MATCHING YOUR LIGHTING ACCESSORIES
Swapping your old kitchen drawer handles and knobs for new ones is a great way to refresh your kitchen without resorting to a refit, while using handcrafted ones gives your room a personal touch and lovely 'lived in' feel. Our Napier Cupboard Knobs have quickly become a firm Jim Lawrence favourite because they serve just that purpose: creating instant style wherever they are used.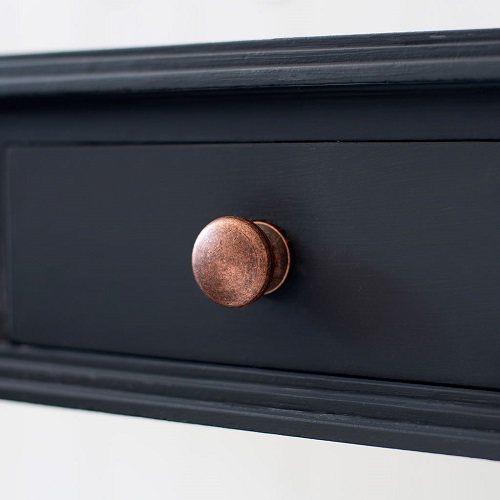 Get the vintage look using distressed Heritage Copper tones, adding warmth for that lovely lived in feel. Give your kitchen cabinets, cupboards and drawers an instant update with our handcrafted Gilby Drawer Pull: made with a quality you can appreciate with every touch. ⁠Also available in Antiqued Brass.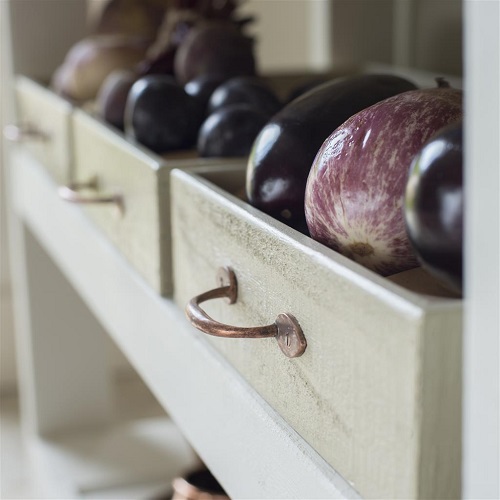 Handcrafted stylish switches and sockets are the perfect finishing touch to any period or contemporary home. Our range of colourways and designs allow you to think creatively so you can highlight your wiring accessories instead of hiding them.  Our light switch plates are all made with a slimline brass or steel backplate that sits flush against the wall, with either a straight bevelled edge for a sleek, modern look to your home, or an uneven, hammered edge for a more rustic feel. Try our 1 Gang Grid Switch for a traditional look with a twist.


PAIR WITH NEUTRAL LINENS FOR A NATURAL LOOK
Copper fittings look fabulous when matched together, creating a chic uniform look with their soft, buffed patina. Combine neutral linen with this unique colouring for a natural touch with a homely feel. There's no questioning that this dreamy fabric is a interior staple…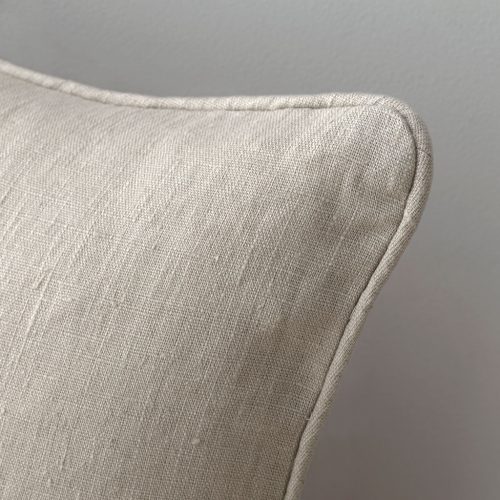 We love the grain of linen when lit up as a lampshade, highlighting the sought after textured weave whether in its natural oatmeal hues or dyed a soft colour to match your decor. View our full soft linen available to buy as a cut length to get creative with, a ready made cushion cover or one of our luxury lampshades.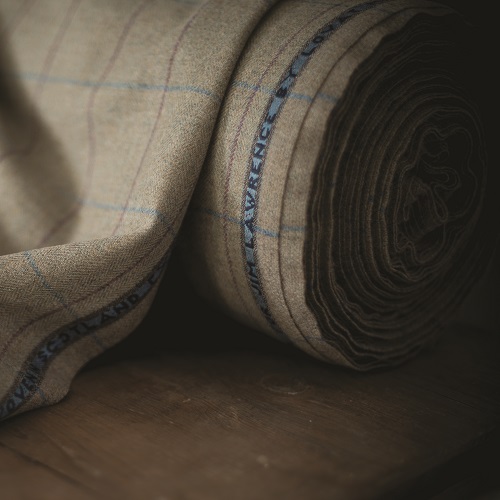 Alternatively, if you want to maximise the feeling of comfort, our heritage wools and tweeds allow for a perfect modern country marriage when paired with the rustic nature of our heritage copper metalwork. A hardy close weave, the fabric is as tough as it is attractive – both rugged and refined – a perfect amalgamation for country style.
MADE BY US
Our Heritage Copper products are created by our team of craftsmen who hand finish each solid copper piece with an antiquing solution to accelerate the natural process of tarnishing. This process produces our beautifully soft, heritage finish suitable for both indoor and outdoor use. A free metal swatch is available on request if you need a little help to decide.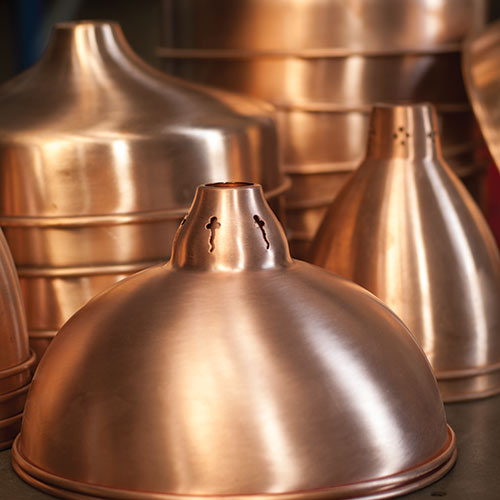 As our Heritage Copper products use natural, un-lacquered copper, it will continue to age and develop a darker dull patina over time in your home. This is particularly hastened in damp or harsh outdoor environments. To decelerate this aging process we recommend applying a good quality metal cleaning solution to the tarnished areas. Simply work the cleaning solution in by rubbing briskly with a soft cloth and then buff the copper to restore its original lustre. Please note that chemical polishes can strip away the original antiquing solution too so take care to use cleaning products sparingly to retain the aged heritage look of the product.
We are very proud of the quality of our workmanship and designs that we feel highlight the skill of our metal workers and their ability to make products that suit both contemporary and period properties. To learn more about how to take care of all of our unique finishes, click here.
STYLED BY YOU
A home needs balanced lighting, so why not choose a solid spun shade to compliment a pendant within your home? If hand blown glass isn't right for you, a full copper shade is perfect for a room than needs a focal point. We love this customer image from @catwalktocowpat featuring the Leiston Pendant Light in Heritage Copper.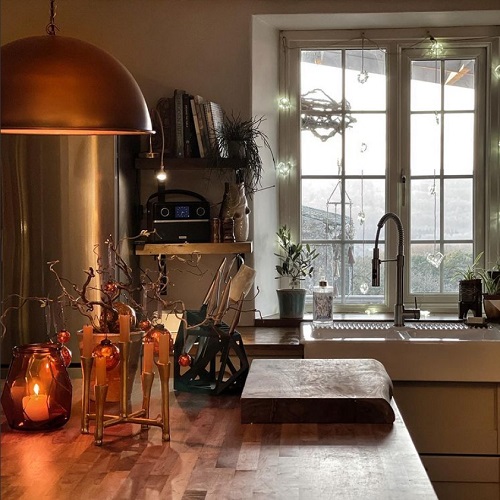 Vintage copper detailing goes wonderfully with our Heritage Copper finish, but you don't have to go far to find another match. Our Antiqued Brass finish works beautifully alongside the blush hues of copper, as you can see in this gorgeous cottage kitchen from @thelittlestonecottage. Both will further tarnish as time passes, creating our unique and sought after antiqued patina.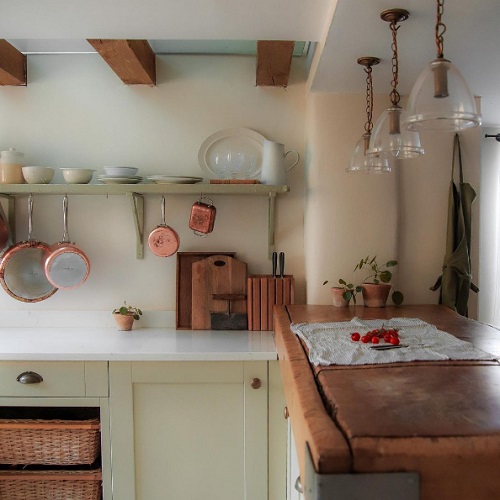 To view all of our home accessories and lighting visit our website. For even more home interior ideas, keep up to date by following us on Instagram, Twitter and Facebook. Don't forget to tag us in your home updates– we love seeing our products in their new homes!